Related Links


Teacher Assignments

Teacher Entries

Student Entries
Title:
The Lion, the Witch, and the Wardrobe (02/03/11)
Description:
As part of our fantasy unit, we read the book The Lion, the Witch, and the Wardrobe, by C.S. Lewis. Then we watched the movie. Now it is time to compare the two, looking for similarities and differences, as well as elements of fantasy. Follow the list below to complete your assignment.

1. Explain the elements of the story: magic, good vs. evil, realism, a quest, and an author's purpose.

2. Compare the book to the movie - similarities and differences. Think large, not small. Don't tell us about the color of their clothes, instead talk about events and the order of events. Discuss at least 3 of each.

3. Which did you enjoy more - the book or the movie? Tell us why.

4. Be sure to stay focused and organized. Use a graphic organizer if it will help you.

5. Elaborate on your ideas.

6. Answer all the questions within a cohesive essay.

7. Edit carefully.

8. Add a picture to help make your point.


This blog assignment is due on February 18th. If you want suggestions, you must submit the blog by the morning of February 14th. The graphic organizer is due on February 9th.
---
My Classes & Students
About the Blogger
We are a fourth grade class on Long Island, NY, USA. We love blogging and connecting with other classes. Our teacher is Mrs. Parisi. She enjoys using technology to help us be successful in school.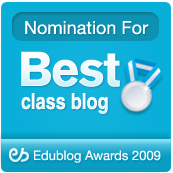 Latest 10 Comments