We started from Perth on the 31st of July stop over at Kuala lumpur (Malaysia), and then to South of India.The state is called Kerala where my maternal Grandparents live. Kerala An equable climate. A long shoreline with serene beaches. Tranquil stretches of emerald backwaters. Lush hill stations and exotic wildlife. Waterfalls. Sprawling plantations and paddy fields. Ayurvedic (herbal medicines) health holidays. Enchanting art forms. Magical festivals. Historic and cultural monuments. An exotic cuisine. Kerala is the only state in India with hundred percent literacy. We reached at night where my grandpa and my mums cousin came to pick us. When we reached our house my grandma laid banana fritters and sweet, soft bread on the dinner table (obviously she knew we were hungary)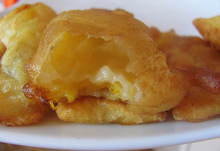 After that we rushed to our rooms for a good night sleep.
The next morning we woke up at around 7:30. On the table our breakfast was ready. We had dosa which is a traditional Indian food served with sambar and chutneys.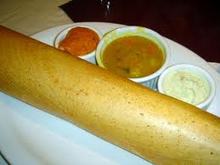 After having a delicious breakfast we all got dressed to go to the City Center. City Center is a huge mall in Kerala and is known to sell the best materials in the whole of India.(silk, cotton ext.... ). We went to the City Center to buy clothes and shoes. We got heaps of traditional outfits and normal daily wear. We went to lots of shops to buy accessories. After shopping we headed back home. It was lunch time we headed back home were my grandma prepared chicken biryani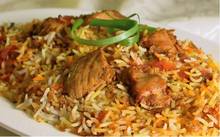 It was really spicy!
After a yummy lunch we all took a nap.
At 2:30 we all started to wake up. We decided to play Carom board.
here are 19 pieces arranged on the board--9 black pieces and 9 white plus a red piece--the queen--which is placed in the center of the arrangement. A piece called the "striker" is used by each player to try to sink his own colored pieces into the corner pockets opposite him. Choose to aim for obvious shots to gain points early in the game and leave difficult shots for last. Leave your pieces surrounding the queen to guard her from your opponent.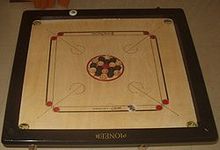 My grandpa came first then my mum and brother than me than my grandma. We played two games in the second game my grandpa came first then me then my grandma then my mum and brother. At 3:45 we finished. My brother and I watched t.v. We watched the olympics for a while, then cartoons. At 7:30 we had dinner. on he 4th of august we had to attend my mums cousins wedding.We had to leave one day before. We travelled on a train for 3 hours. We reached the same day. We lived in the brides house (my mums cousin). The next morning it was the wedding and everyone was getting dressed to head for the church. The church was a bit far so we travelled by car. The ceremony had had started. After the ceremony had finished every rushed to the hall.The food was spicy but it was really yummy!
On the 18th of august we had to leave for New Delhi were my dads family lived.We lived in Delhi for 7 days. We landed at Delhi Airport at 11pm and then we reached my paternal grandparents house at 12 mid night in the morning!. I was so tired,straight away I rushed to our room and went to sleep. The next morning at 10am we went to a huge mall to buy more clothes,house ware needs and gifts for all our friends ( in India if you give a gift to the peoples house your in, you show respect. The gift is normally food items. ) Then the next day we went to my aunties friends house. On the third day we went to Splash. Splash is one of Delhi's biggest water/theme park. From our house it was a 1 and half hour drive. My aunty hired a big car. Elyse came with us. (Elyse is a lady that lives in one of our my aunties flats. Elyse is from South Africa and has lived in Delhi for 7 years. Elyse teaches maths and i.t to 17 girls who live in an orphanage.) When we finally reached Splash we got dressed and were off to the water slides.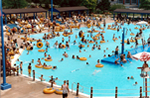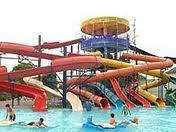 Going to Splash and attending a wedding was two main things events that happened in my holiday. On the other days we went to our relatives house'
or just stayed at home.
India was so much fun! I can't waiat till I go next year!