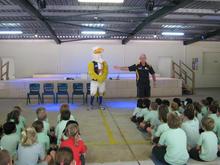 on the 14 of march the Eagles came to our school and the person its name was Tim he told us the 5 f's which were friends, family, fitness,fun and football.Then he told us the 5 r's and they were respect for yourself, respect for others,
respect for your enviorment, reach out for your cummunity and reaching your potential.
We had to sing to get Rick the rock into the under cover Rick is the Eagles mascot.Then Tim talked about Rick this is one fact about Rick he is only found in Australia.
Then we played a game called musical chairs before Rick left, then he left Tim kept talking for a little bit then he left too the end.