The Idea Hub
This is a place for students from grades 4 - 7 to write about their research projects, book club book reviews and to learn to use 21st Century technology skills. It is an invitation to see what students in my library research classes are researching, learning and sharing. We learn from positive, constructive feedback not negative criticism. Please notice our successes, not our mistakes.
Related Links

Teacher Assignments
Teacher Entries

Francophone Country Research
The classroom teacher of Div 8 - Grade 6-7 (English track) asked her students to do a small research project on Francophone speaking countries. So I had them pick their country and then use our District database, CultureGrams to find their information. The students completed their research and then created a postcard and oral presentation for their class. I also asked them to write a blog post about the Francophone country they researched. One of the criteria that they were suppose to include was a bibliographic entry to cite where they found their information. Many did not do that! We are also still working on citing images and ensuring that we are using 'fair use' images.




To view the posts, look to the left under 'student entries' and you can see what these students have learned.




Image: (under Fair Use) http://fr.fotopedia.com/items/flickr-5494676062
Article posted June 1, 2012 at 03:20 PM • comment • Reads 15589 • see all articles


My Classes & Students

About the Blogger
My name is Mrs. Martin and I am a Teacher-Librarian. I work with teachers and students in a dual-track English/French Immersion school. I teach research skills, including Information Literacy.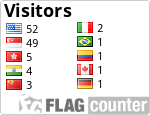 Latest 10 Comments: