This is a place for students from grades 4 - 7 to write about their research projects, book club book reviews and to learn to use 21st Century technology skills. It is an invitation to see what students in my library research classes are researching, learning and sharing. We learn from positive, constructive feedback not negative criticism. Please notice our successes, not our mistakes.
Related Links

Title:
Commenting Guidelines (03/12/12)
Description:
Thank you to Mrs. Edwards of What Else and Mrs. J. Smith of Huzzah blogs for their great posts on writing comments. You assisted us in writing ours.

Remember that your comment is part of your digital 'footprint'. Your 'footprint' is a path you create on the Internet that leads back to you. Create your path with thoughtfulness and wisdom. Represent yourself well.

How To Write A Great Comment

1. Begin like a letter with a greeting, the body (content) and an ending. Remember we are just using our first and last initials not our first names.
eg: Hi, my name is C.M. I am from British Columbia, Canada.

2. Compliment the blog writer in a specific way, ask a question, make a connection or add NEW information to the post with your comment.
eg: My family likes to go camping too. Our favorite camping food is S'mores. Does your family like S'mores?

3. Write a relevant comment that is connected to the post. If the post is about soccer your comment is about soccer or another sport you play if you do not play soccer.
eg: I do not play soccer, but I love to play hockey as much as you seem to like to play soccer.

4. Do not give out any personal information about yourself such as your name, address, city, phone numbers or email addresses.

5. ALWAYS use correct grammar: capitals at the beginning of sentences, and for proper nouns.
Periods at the end of sentences.
Proper spacing and spelling.
Use only one exclamation mark at the end of a sentence when you are writing about something you are excited about.

6. PROOFREAD and edit your comment before you submit (send) it.

The better you comment the better comments you will get back! Have fun connecting with others!


---
My Classes & Students
Div 25-Grade 3-4
Div 26-Grade 4-5
Div 27-Grade 5-6
Div 28-Grade 6
Div 29-Grade 7
Div 5 Grade 3-4
Div 6 Grade 4-5
Div 7 Grade 6-7
Div 8-Grade 6-7
About the Blogger
My name is Mrs. Martin and I am a Teacher-Librarian. I work with teachers and students in a dual-track English/French Immersion school. I teach research skills, including Information Literacy.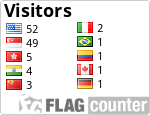 Latest 10 Comments