Related Links

Teacher Assignments
Teacher Entries

Be a Better Blogger
When you have a blog you have lots of responsibilities. You have to make it look like it is your blog. This is a way that you can jazz up your blog. Giving your blog a make over will let other bloggers see your personality through your blog. There are many ways to improve your blog. One of the best ways to improve your blog is by using color. Another way that you can add to your blog is by adding pictures.
The first option you have is using colors. To make your blog reflect you and you personality, you should take a look at all of the colors that you can chose from on template eight on the top of you blog when you are logged in as a blogger. The colors you pick can match what you are writing about. For example, you can choose red, orange, green, blue, and violate colors to make your blog look like a rainbow if you are writing about spring.
Another way that you can give your blog a totally different look is that you can look on your friend's blogs and see if there are any glitter names, and get them yourself. You can also look on websites for pretty decorations like glitter affects and games. All you have to do is just copy and paste the code and paste it on an article page just like you are making a blog.
The third option you have is adding pictures to your blog. Pictures are a nice way to show other bloggers more information about what you are blogging about. For example,if you are blogging about a project you made for class you can take a picture of it and put it on your blog to show everyone.
The next thing you can add to your blog is a recording. The recording tool will let you record onto the blog and let other bloggers listen to what you said. For example, if you write a song, you can sing and record some of the song onto your blog for everyone to listen to.

The reason why you want to give your blog a makeover is that you want bloggers to keep coming to your blog. If your blog is interesting, those bloggers will tell their friends and they will come to see it also. It is very attractive to bloggers if you give your blog a special splash of color, a nice picture to look at or a recording to listen to. Also it is good to give your blog a makeover because it will change it from a blog that is plain and dull to a blog that will look vibrant and fun.
You should use these tip to make you a better blogger. You should make your blog look like it was made by you. Make your blog personal by adding in your favorite colors and accessories. Make it different from anyone else's.

Article posted March 3, 2009 at 08:43 PM • comment • Reads 490 • Return to Blog List
Add a Comment
Posted Comments


My Classes & Students

About the Blogger
We are a fourth grade class on Long Island, NY, USA. We love blogging and connecting with other classes. Our teacher is Mrs. Parisi. She enjoys using technology to help us be successful in school.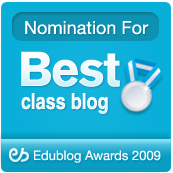 Latest 10 Comments: