Related Links

Teacher Assignments
Teacher Entries

Snow, I Like Snow!
Dear Mrs. Haley,
In my experience of being at Denton Avenue, there are so many things I wanted to do that I didn't do, and some things I did do that I liked a lot, but never got to do again. One of the things I really wanted to do but never got to do was go outside when it is snowing or after it snowed.
If you let us go outside if the weather forecast is snow, you can let us know a day before so we come to school prepared, to go outside for recess. We would wear our boots, gloves, heavy coats and a hat (if we want). If some kids don't want to go outside you can tell some of the monitors stay inside with those kids. Also, if some kids don't come in prepared they will have to stay inside with the kids who do not want to outside.
Even though it is inclement weather, I'd still like go outside for even a few minutes at least to let out some of my energy. I'd also enjoy playing in the snow doing snowmen or making mountains and most fun of all, having snowball fights with my friends.
I would not want to stay inside because there are not a lot of activities to do in my classroom. So it is really boring. It is so boring that I feel like I'd want to sleep "Zzzzz." I'd keep yawning and yawning and yawning until I finally would fall asleep and begin to produce a very big snore. For the rest of my day, I would be so inane. I would not be able to pay attention because I would be so tired and falling asleep.
Lision to this message and let me know what you think.

From,
Megan #1
South Paris Collaborative
Room # 42

Article posted February 3, 2009 at 08:03 PM • comment • Reads 2901 • Return to Blog List
Add a Comment
Posted Comments


My Classes & Students

About the Blogger
We are a fourth grade class on Long Island, NY, USA. We love blogging and connecting with other classes. Our teacher is Mrs. Parisi. She enjoys using technology to help us be successful in school.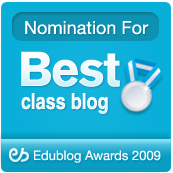 Latest 10 Comments: