Blog Entries
What did I learn about 6.1, 6.2, and 6.3 in lab?
Friction. I learned you can change many variables. You can change the surface type, area, and the weight.
In 6.1 we changed the surface type. It changes a lot! It had friction because there was contact of the block and the different surface types.
In 6.2 we changed the weight by adding more blocks.it changed by very little.
In 6.3 we changed what way the block was placed. It didn't change at all. Because the weight of the block and the surface type never changed.
Friction is really cool!

About the Blogger
( = ヮ = )৩ Pastaaaaaaaaaa~ (-Italy) Hey Chickens! So I'm Jaimie. I love Anime. My faves right now are Gosick and Hetalia.... Russia and Japan fangirl! XD Music is my passion! The bands I listen to are Black Veil Brides, Vampires Everywhere!, Blood On the dance Floor, Maroon 5......Ehh I can't remember all of them....^.^" I find it really funny when people in anime go,"I just learned some japanese!", and I'm just sitting there like, "You've been speaking it the whole episode....SERIOUSLY!?" Mehh.....I have issues. XD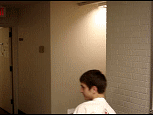 glitter-graphics.com

www.youtube.com/watch?v=hUUZbgOPFLY