Blog Entries

ELASTIC MAN TO THE RESCUE!!!!!!!
Okay so here is how you propel A Cart across a floor.
1.Get a cart.
2.Get a rubber band.
3.tie the rubber band around 2 of the wheels that are on the cart.
4.twist the rubber band and let go.
5.watch the cart run around. :D
And the difference between mass and weight.
IS............
Mass can have a bunch of weight, or it can not have a bunch of weight. And it has ummm.....density! So yeah. And weight is normally measured in pounds. :3 It depends on how much mass the object has to know how much it weighs.
Toaster
PS this post is confusing......to me.
Article posted April 25, 2012 at 09:22 AM • comment (1) • Reads 1062 • Return to Blog List
Add a Comment
Posted Comments

That is another way to think about it.
Comment Posted on May 1, 2012 at 03:08 PM by Gabef



About the Blogger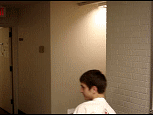 glitter-graphics.com

www.youtube.com/watch?v=hUUZbgOPFLY ( = ヮ = )৩ Pastaaaaaaaaaa~ (-Italy) Hey Chickens! So I'm Jaimie. I love Anime. My faves right now are Gosick and Hetalia.... Russia and Japan fangirl! XD Music is my passion! The bands I listen to are Black Veil Brides, Vampires Everywhere!, Blood On the dance Floor, Maroon 5......Ehh I can't remember all of them....^.^" I find it really funny when people in anime go,"I just learned some japanese!", and I'm just sitting there like, "You've been speaking it the whole episode....SERIOUSLY!?" Mehh.....I have issues. XD