My team (Zach and Justin) did an experiment on a Cardon cactus or also known as the False Saguaro. The Cardon is native to Mexico, Baja, and California and is one of the deserts most magnificent giants (but our cacti's were only 8.5"). My cactus can grow to 30' in height, with bases up 3' in diameter. The lifespan is 100+ years. The experiment: We had three cacti's and put them in three different environments. One being 98F (in an incubator), another 68F (room temp.), and the third at 37F (in an fridge). To control variables we had to change some things. One, the cactus in the fridge didn't get light so we covered the plastic door of the incubator and put the room temp. cactus in a closet, so now all three are getting no light. Two, we watered the cactus every other day with two squirts of a water spray bottle. The hypothesis is that the cactus the incubator will look the healthiest by the time our experiment is completed because cactus, being native to the desert, will grow the best in the hot climate. Here is our table of results: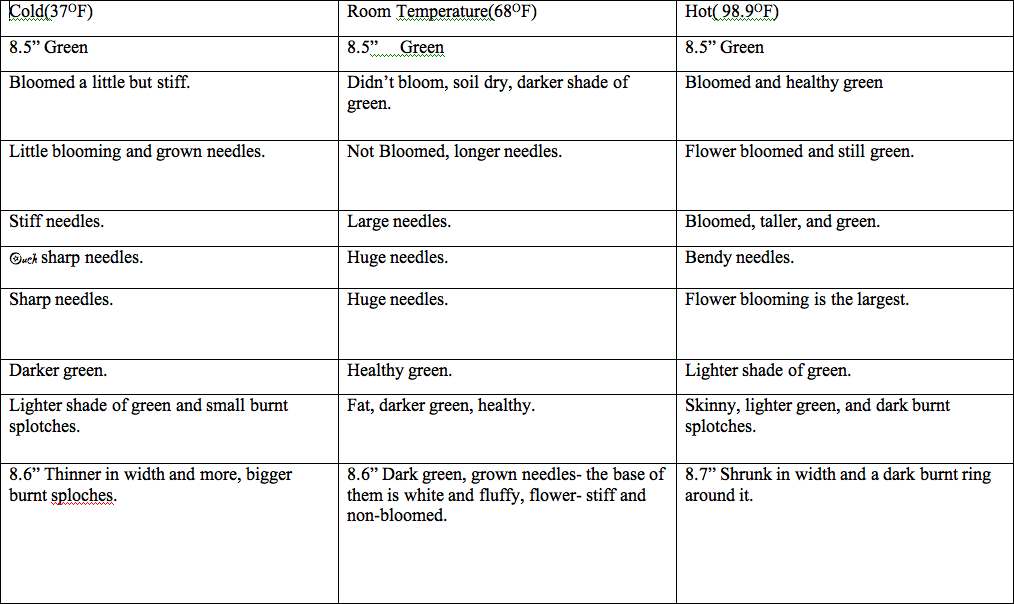 As you see we were wrong, the hot climate Cardon cactus started to burn and the room temp. cactus did the best. Inaccuracies we had were one, the room temp. cactus had air circulation and plus at night when the heat was turned off the temperature change which is essential for cactus. Click Here is a movie I made of when my teamate cut open a cactus.
Bibliography Anitei, Stefan. "10 Facts About Cacti." Softpedia. Web. 25 Apr. 2012.