The Idea Hub
This is a place for students from grades 4 - 7 to write about their research projects, book club book reviews and to learn to use 21st Century technology skills. It is an invitation to see what students in my library research classes are researching, learning and sharing. We learn from positive, constructive feedback not negative criticism. Please notice our successes, not our mistakes.
Related Links

Teacher Assignments
Teacher Entries

Caldecott Challenge 2012
Our school hosted a Caldecott Challenge for the students. I had all the Caldecott Medal/Honor books displayed and as the students read the books they filled out a pink heart. I read selected titles to the primary students and then they filled out the heart with the title of the book we read. Students were invited to come into the library when they had time and read a different Caldecott book each time they came. Even the classroom teachers and the custodians took part! I ran the Challenge from February 14 - March 14. During that one month our school read a total of 1056 Caldecott books. There were grade 7's sitting all over the library, either in groups or singley reading picture books that they remembered from when they were younger or ones they had not seen before. Mo Willems, Don't Let the Pigeon Drive the Bus was especially popular. Many thanks to Division 26 who really got into the spirit of things and read like fiends during their library class!






The Library Leadership Team began to glue the hearts onto large sheets of blue paper that I started to put up on the wall outside the library (our library doesn't have enough wall space to put up things) and we RAN OUT OF WALL space to put any more hearts on!!!! Crazy!




Many thanks to all the students and staff who participated. I hope you found much joy in reading some of the best picture books in our library.



Article posted March 26, 2012 at 02:28 PM • comment • Reads 2995 • Return to Blog List
The computer you are commenting from has an id number. It is 107.21.156.207!

Posted Comments


My Classes & Students

About the Blogger
My name is Mrs. Martin and I am a Teacher-Librarian. I work with teachers and students in a dual-track English/French Immersion school. I teach research skills, including Information Literacy.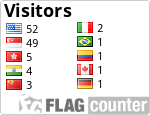 Latest 10 Comments: