Blog Entries

Creek
we scored our creek by finding bugs from our creek and we had a data sheet that had the bugs names on it we fond the bugs with a micro scope.and our creek scored 21.I found a cadisfly an a cadisfly is 4 points.
Article posted November 4, 2011 at 04:08 PM • comment • Reads 2061 • Return to Blog List
The computer you are commenting from has an id number. It is 204.236.250.249!

Posted Comments

About the Blogger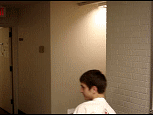 glitter-graphics.com

www.youtube.com/watch?v=hUUZbgOPFLY ( = ヮ = )৩ Pastaaaaaaaaaa~ (-Italy) Hey Chickens! So I'm Jaimie. I love Anime. My faves right now are Gosick and Hetalia.... Russia and Japan fangirl! XD Music is my passion! The bands I listen to are Black Veil Brides, Vampires Everywhere!, Blood On the dance Floor, Maroon 5......Ehh I can't remember all of them....^.^" I find it really funny when people in anime go,"I just learned some japanese!", and I'm just sitting there like, "You've been speaking it the whole episode....SERIOUSLY!?" Mehh.....I have issues. XD