We hopped in the car for a little day trip to Wasilla and Palmer.  Fact about Wasilla: It is home to Sarah Palin!  She doesn't live there anymore, people in Alaska say she moved to Arizona.  
We drove to Palmer first.  We visited a MUSK OX farm!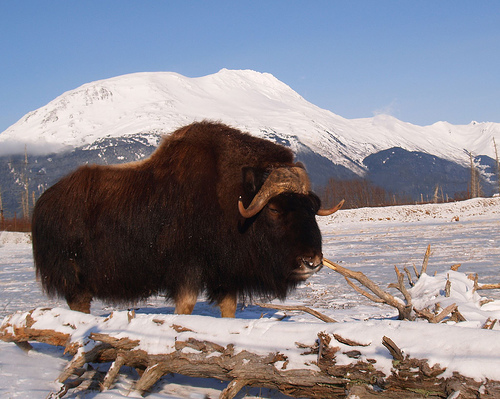 I learned that the job of this farm is to DOMESTICATE wild musk ox, then HARVEST their undercoat called  QUIVIUT, SHIP it to Rhode Island where it is made into yarn, then it is shipped back to Palmer, then it is given to the NATIVE PEOPLE to KNIT it into very pretty, expensive, hats, shawls, scarves and headbands.  The wool is soooo soft!  Quiviut is the warmest fiber on earth, helping musk ox stay warm in temperatures as low as -145 degrees!
 We then took a tour of the farm, and I got to feed a 4 year old musk ox named Avalanche.  Baby musk ox are so cute!  I learned that musk ox trap heat in their bodies really well, and all they have to do is eat.  I also learned that male musk ox butt their heads to prove who is stronger.  They run at each other at 35 miles an hour, and, without stopping or slowing down, smash their heads together when they meet.  They aren't trying to harm the other, they're just proving who is stronger and more powerful.
 We left the farm and drove to Wasilla to the Iditarod Trail Sled Dog Race headquarters.  
The Iditarod is the 1,049 mile sled dog race that begins in Anchorage and ends in Nome.  It took last year's winner 8 days and 16 hours to complete the race.  At the headquarters, all the trophies of the Iditarod are kept.  We walked into a gift shop which was packed with stuffed sled dog puppies. In the corner was a 1rst Place Iditarod trophy.  It was very large and gold.  A film was playing in the next room where there were portraits and pictures of past winners of the Iditarod.  Outside, there was a team of sled dogs pulling a four-wheeler every few minutes on a short course for visitors.  When I was in Quebec last year, I went on a 3 hour dog sled trip.  In the snow.  I'll never forget it.  A few feet back was an adorable puppy in a cage.  I played with him for what seemed like hours.  Then I was dragged away from the puppy and we headed home.  There is a great series in the Discovery Channel all about it.  Or just watch Snow Dogs again! 
The pictures above were found at: http://scienceline.org/wp-content/uploads/2010/03/2068405577_935b170752.jpg and https://www.mindware.com/blog/wp-content/uploads/2011/03/iditarod51.jpg