The Idea Hub
This is a place for students from grades 4 - 7 to write about their research projects, book club book reviews and to learn to use 21st Century technology skills. It is an invitation to see what students in my library research classes are researching, learning and sharing. We learn from positive, constructive feedback not negative criticism. Please notice our successes, not our mistakes.
Related Links

Teacher Assignments
Teacher Entries

Red Cedar School Battle of the Books!



Our teams have been reading, reading, reading and practicing, practicing, practicing. They have even been trying hard to memorize which authors have won awards other than Red Cedar! The school's "Battle of the Books" is tomorrow at lunch. Twelve teams of three students each will be competing in a round-robin event. The top 3 teams will be going to the School District "Battle of the Books" on April 9th, two teams will compete and one team will cheer. May the best teams prevail!
Article posted March 30, 2010 at 04:03 PM • comment (2) • Reads 1344 • Return to Blog List
Add a Comment
Posted Comments

Van Bien Won :D yay
Comment Posted on May 6, 2010 at 10:41 AM by C K




Van Bien Won they did good :D
Comment Posted on April 15, 2010 at 11:22 AM by C K




My Classes & Students

About the Blogger
My name is Mrs. Martin and I am a Teacher-Librarian. I work with teachers and students in a dual-track English/French Immersion school. I teach research skills, including Information Literacy.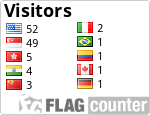 Latest 10 Comments: